Share Your Self-Drive Experience to Get the Jump Starter for Only $1
Blog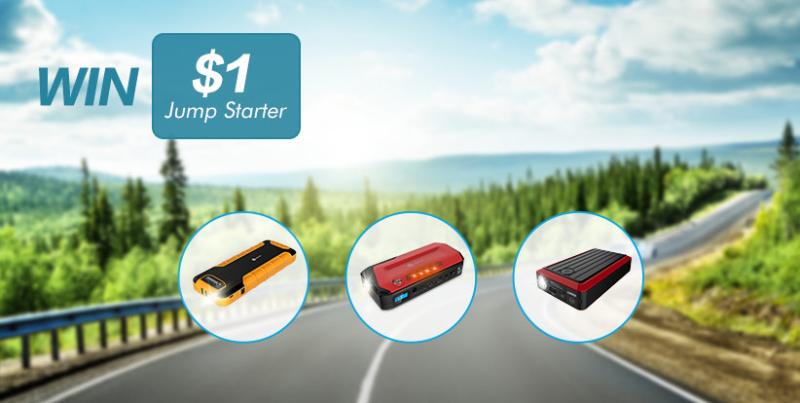 A self-drive car tour is the perfect vacation for the independent couple or group of friends & family looking to take advantage of the ultimate freedom in international travel.
Please, share your self-drive travel experience in the comment below and get the best car jump starter that will definitely enhances your next self-drive tour experience.
We'll randomly pick 30 winners to receive a code to buy an iClever Jump Starter for just $1. The discount code is only valid for use on Amazon on May 31th, so don't forget to check your inbox.
Event time: From May 7th 0:00 PST to May 30th 23:59 PST.
Top 1-10 Winners ($89.99 Value):
iClever 20000mAh Car Jump Starter Power Delivery 30W
Top 11-20 Winners ($59.99 Value)
iClever 18000mAh Portable Jump Starter
Top 21-30 Winners ($39.99 Value)
iClever 10000mAh Car Jump Starter
You can share the places you used to drive by.
You can share the important tips for self-driving tour.
You can share the unforgettable parts of your journey, the best or the worst
#shareyourstory
Rules:
1. US Only.
2. The event will run from May 7th 0:00 PST to May 30th 23:59 PST.
3. For a better chance to win, please share this blog on your Facebook or Twitter and share a screenshot of your post (including the number of shares) in the comments.
4. 30 winners will receive a discount code valid for one of the following three jump starters: 20000mAh jump starter, 18000mAh jump starter or 10000mAh jump starter. We will send you the code on May 31th. Prizes are limited to one per person.
5. iClever reserves the right of final explanation.
30 Winners Announced


Top 1-10 Winners ($89.99 Value):
iClever 20000mAh Car Jump Starter Power Delivery 30W

@aashishkjain
@Ranjan Sharma
@danny.sulkin
@jrbohon
@ejmst672
@mtb0309
@Rhonda Martin
@Kpobtv
@shaw.tyler
@Chef Steven
Top 11-20 Winners ($59.99 Value)
iClever 18000mAh Portable Jump Starter

@detlitscrb
@z_zman
@nuttininmenog
@tom_eldredge
@Bobbiejo Patten
@crissy brown
@David Medlin
@jwitkow132
@Cindy McConnell Malone
@als221
Top 21-30 Winners ($39.99 Value)
iClever 10000mAh Car Jump Starter

@heartfailure
@gerter
@d_waters78
@adanteadams
@ygruenebaum
@canynbnd
@t.a.jones
@tealgirlygirl
@mikekemail
@jesscproductions
Thanks for all your sharing. We will contact all the 30 winners ASAP. If we miss you, please contact us from here<<<
Thanks